When to Get an Oil Change at Woodhouse Mazda
You will find that we have all of the automotive services that you need for your vehicle at Woodhouse Mazda. Whether you have a brand-new Mazda or an older model, we can be sure that you are able to get in for the regular maintenance and repairs that you need. Of course, it is important to think about regular oil changes when you want to ensure your engine is in great working condition. All you have to do is make an appointment at your earliest convenience and our trained Mazda service near Bellevue, NE technicians will take care of the rest.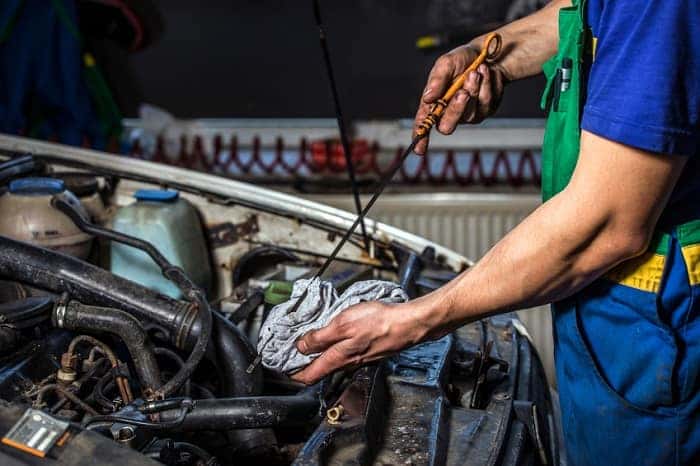 Changing Your Oil
When you change your oil at the manufacturer's suggested intervals, you are ensuring there is consistent lubrication for all of the engine's parts. If the oil dissipates in the engine or it becomes gummy, it will not provide the necessary protection from friction and the engine could overheat or seize up completely. Bringing your vehicle in for an oil change means that the old oil is removed, a new oil filter is put into place, and fresh oil is then pumped in. We encourage all of our customers to have their oil changed every three months or 3,000 to 5,000 miles so that their Mazda CX-3 or Mazda6 runs like new.
What Happens if You Don't Change Your Oil?
Not having your oil changed regularly can translate into major engine troubles in the future. Driving without changing your oil causes excessive friction and potential damage to the engine. Oil that is old is not going to work like it should to keep the engine parts lubricated and working smoothly. When you think about it, the cost of a regular oil change is going to be well worth it in comparison to costly repairs. You may even notice that you end up using a lot more fuel when your vehicle is dealing with old, dirty oil.
Whether you are shopping for a new Mazda in Omaha, NE or you are looking for professional Mazda service, you can count on us at Woodhouse Mazda. Call us today in the service center at (855) 897-6095 to set up your oil change appointment or fill out our convenient online scheduler. We also have regular service and parts specials to save you money on your visit. You will find our full-service Mazda dealership located at 6603 L Street in beautiful Omaha, NE.