How to do New Car Research
When it's time to buy a new Mazda, it can be a complex experience for anyone, whether you have purchased new cars from Woodhouse Mazda before or it's your first time driving a car off the lot.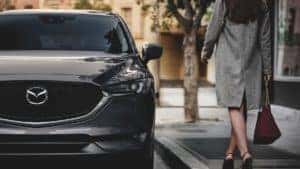 Not only do drivers depend on cars like the Mazda CX-5 to reliably get from place to place, new car owners also want to know they have made a solid, long-term investment with their.
Know your Finances
The first step in researching the next car to purchase is to truly understand your financial situation.  Check into your credit score if you plan to finance a Mazda to help you negotiate the interest rate.
A new car is a long-term investment, so consider budget details like monthly or annual costs for gas, insurance, registration, and regular maintenance as well.
Take a deep dive into your budget to get a true picture of the down payment and monthly payment you can afford.  Also assess the trade-in value of the vehicle you currently own so you can use a trade-in as additional capital for your new car purchase.
Shop Around
When you are in the market for a Mazda in Omaha, it's important to take your time to see all the vehicle options available.  Think about what kind of car would fit your lifestyle — do you need space for a large family or are you looking for something small and sporty?
Each dealership also approaches their car buying experience differently.  Be inspired by the customer service at Woodhouse Mazda, where we can coordinate delivery of your new vehicle and pick-up of the car you are trading in.
Ask the Right Questions
Be sure to inquire about different trim packages and upgrades you can add to the vehicle to customize it to meet all your needs.  Taking your potential new vehicle for a test drive is an important step so you can get an idea of how the car handles both in town and on the highway.
To give yourself the best idea of ongoing maintenance, ask about the anticipated repairs and maintenance schedule for the vehicle. At Woodhouse Mazda, new vehicles are backed by the qualified Mazda Service Center with convenient online scheduling available.